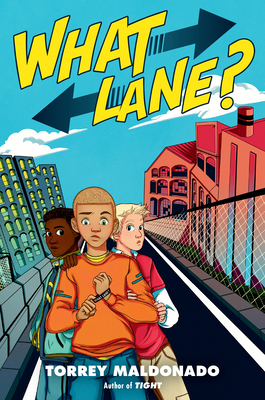 "If you are wondering how to begin confronting Anti-Black racism in your classroom, start with What Lane?"--School Library Journal: The Classroom Bookshelf

"STAY IN YOUR LANE." Stephen doesn't want to hear that--he wants to have no lane.

Anything his friends can do, Stephen should be able to do too, right? So when they dare each other to sneak into an abandoned building, he doesn't think it's his lane, but he goes. Here's the thing, though: Can he do everything his friends can? Lately, he's not so sure. As a mixed kid, he feels like he's living in two worlds with different rules--and he's been noticing that strangers treat him differently than his white friends . . .

So what'll he do? Hold on tight as Stephen swerves in and out of lanes to find out which are his--and who should be with him.

Torrey Maldonado, author of the highly acclaimed Tight, does a masterful job showing a young boy coming of age in a racially split world, trying to blaze a way to be his best self.
Torrey Maldonado (torreymaldonado.com), the author of the critically acclaimed Tight and Secret Saturdays, is a teacher in Brooklyn, New York, where he was born and raised. His books reflect his students' and his experiences.
Sara says: Maldonado really nails it in his second middle grade novel. It's an #ownvoices story about the complications of having two separate friend groups and being mixed-race, with a core cast of 12 year old boys. I laughed, I cried, I wanted to give the main character, Stephen, a hug. His relationship with his best friend, Danny, (who's white), was kind and genuine and imperfect. This is a great book to read as an introduction to talking about racial profiling and how to be an ally. Or just, you know, because it's an awesome book.