Devotions: The Selected Poems of Mary Oliver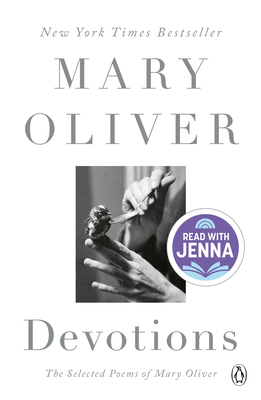 Devotions: The Selected Poems of Mary Oliver
On Our Shelves Now
A New York Times Bestseller! 

Chosen as one of Oprah's "Books That Help Me Through" for Oprah's Book Club! 

Pulitzer Prize-winning poet Mary Oliver presents a personal selection of her best work in this definitive collection spanning more than five decades of her esteemed literary career.

Throughout her celebrated career, Mary Oliver has touched countless readers with her brilliantly crafted verse, expounding on her love for the physical world and the powerful bonds between all living things. Identified as "far and away, this country's best selling poet" by Dwight Garner, she now returns with a stunning and definitive collection of her writing from the last fifty years.

Carefully curated, these 200 plus poems feature Oliver's work from her very first book of poetry, No Voyage and Other Poems, published in 1963 at the age of 28, through her most recent collection, Felicity, published in 2015. This timeless volume, arranged by Oliver herself, showcases the beloved poet at her edifying best. Within these pages, she provides us with an extraordinary and invaluable collection of her passionate, perceptive, and much-treasured observations of the natural world.
Born in a small town in Ohio, Mary Oliver published her first book of poetry in 1963 at the age of 28. Over the course of her long career, she received numerous awards. Her fourth book, American Primitive, won the Pulitzer Prize for Poetry in 1984. She led workshops and held residencies at various colleges and universities, including Bennington College, where she held the Catharine Osgood Foster Chair for Distinguished Teaching. She died in 2019.
by Caroline
Wed, 05/27/2020 - 3:03pm
Another way that people around me have been able to get through this time is through introspection and meditation on the self, as well as by focusing on how each of us fits into the ever-changing world. I've always found Mary Oliver's words resonate strongly with me in that sense. Checking in with yourself and those around you on a deeper level is extremely important right now, and could help us all come out of this in one piece - or maybe even a little stronger. My personal favorites from Devotions include "Wild Geese" and "Evidence," but given the emotional nature of poetry, different things tend to speak to each of us in varied ways. Give it a try!
ISBN: 9780399563263
ISBN-10: 9780399563263
Publisher: Penguin Books
Publication Date: 11/10/2020 - 12:00am
On Sale: 11/10/2020 - 12:00am
Pages: 480
Categories