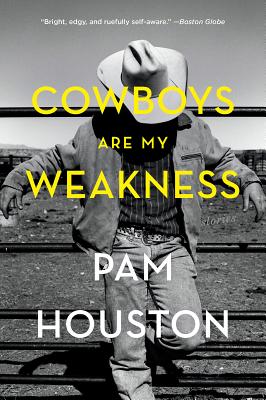 Cowboys Are My Weakness: Stories
Out of Stock
"Brilliant.… [Houston] takes women into grand spaces, both emotional and physical, and isolates them until there's nothing left to do but sit down and take a hard look at one's soul." —Los Angeles Times
In Pam Houston's best-selling story collection, we meet smart women who are looking for the love of a good man, and men who are wild and hard to pin down. Our heroines are part daredevil, part philosopher, all acute observers of the nuances of modern romance. Cowboys Are My Weakness is a shrewd and intoxicating look at men and women—together and apart.
Pam Houston is the prize-winning author of Contents May Have Shifted, among other books. She is professor of English at the University of California–Davis and lives on a ranch at 9,000 feet in Colorado near the headwaters of the Rio Grande.
I read this book for the title at first. That iconic Marlboro-type cowboy? Swoon. But these stories are all about the women who have to deal with those cowboys. They are shrewd and funny as they travel through the rugged terrain of life that cowboys inhabit. Houston's writing is sharp, and deceptive in its plainness.
ISBN: 9780393356878
ISBN-10: 9780393356878
Publisher: W. W. Norton & Company
Publication Date: 01/29/2019 - 12:00am
On Sale: 01/29/2019 - 12:00am
Pages: 192
Language: English
Categories
Fiction / Short Stories (single author)