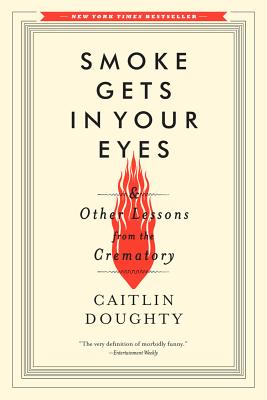 Smoke Gets in Your Eyes: And Other Lessons from the Crematory
On Our Shelves Now
"Morbid and illuminating" (Entertainment Weekly)—a young mortician goes behind the scenes of her curious profession.
Armed with a degree in medieval history and a flair for the macabre, Caitlin Doughty took a job at a crematory and turned morbid curiosity into her life's work. She cared for bodies of every color, shape, and affliction, and became an intrepid explorer in the world of the dead. In this best-selling memoir, brimming with gallows humor and vivid characters, she marvels at the gruesome history of undertaking and relates her unique coming-of-age story with bold curiosity and mordant wit. By turns hilarious, dark, and uplifting, Smoke Gets in Your Eyes reveals how the fear of dying warps our society and "will make you reconsider how our culture treats the dead" (San Francisco Chronicle).
Caitlin Doughty is a mortician and the New York Times best-selling author of Smoke Gets in Your Eyes and From Here to Eternity. She is the creator of the web series Ask a Mortician. She lives in Los Angeles, California, where she owns and runs a funeral home.
by Alexandra
Wed, 05/27/2020 - 12:52pm
I can't contain my love for this book. It was recommended to me by a fellow bookseller at a previous store, but I didn't read it until I came to work at Booksmith. For weeks, I became obsessed with the idea of de-stigmatizing death. Why don't we talk about it? What do you want to happen to your body after you're gone? What do your parents want you to do with their remains?
So, it maybe turned me into the most morbid dinner guest of all time. But! This is a book full of wisdom, dark humor, and so much fascinating history. And on top of all that, it is a stellar memoir about being 23 and feeling completely lost.