Wedding Toasts I'll Never Give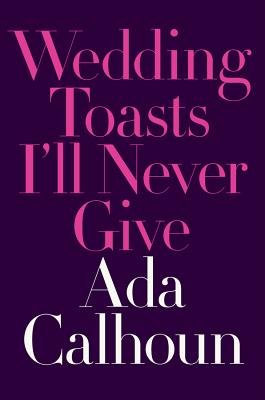 Wedding Toasts I'll Never Give
Inspired by her viral New York Times "Modern Love" essay "The Wedding Toast I'll Never Give", Ada Calhoun's memoir is a witty, poignant exploration of the beautiful complexity of marriage.
We hear plenty about whether or not to get married, but much less about what it takes to stay married. Clichés around marriage—eternal bliss, domestic harmony, soul mates—leave out the real stuff. After marriage you may still want to sleep with other people. Sometimes your partner will bore the hell out of you. And when stuck paying for your spouse's mistakes, you might miss being single.
In Wedding Toasts I'll Never Give, Ada Calhoun presents an unflinching but also loving portrait of her own marriage, opening a long-overdue conversation about the institution as it truly is: not the happy ending of a love story or a relic doomed by high divorce rates, but the beginning of a challenging new chapter of which "the first twenty years are the hardest."
Calhoun's funny, poignant personal essays explore the bedrooms of modern coupledom for a nuanced discussion of infidelity, existential anxiety, and the many other obstacles to staying together. Both realistic and openhearted, Wedding Toasts I'll Never Give offers a refreshing new way to think about marriage as a brave, tough, creative decision to stay with another person for the rest of your life. "What a burden," Calhoun calls marriage, "and what a gift."
Ada Calhoun has written for the New York Times, New York magazine, and the New York Post. Her book St. Marks Is Dead was named a New York Times Editors' Choice and a Boston Globe Best Book of the Year.
ISBN: 9780393254792
ISBN-10: 9780393254792
Publisher: W. W. Norton & Company
Publication Date: 05/16/2017 - 12:00am
On Sale: 05/16/2017 - 12:00am
Pages: 192
Language: English
Categories
Biography & Autobiography / Personal Memoirs