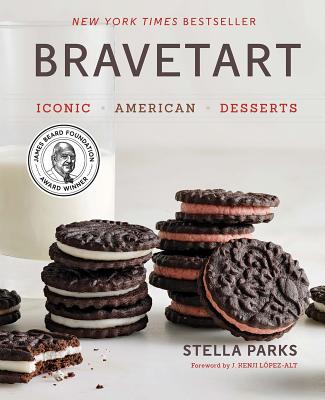 BraveTart: Iconic American Desserts
On Our Shelves Now
Winner of the 2018 James Beard Foundation Book Award (Baking and Desserts)

A New York Times bestseller and named a Best Baking Book of the Year by the Atlantic, the Wall Street Journal, the Chicago Tribune, Bon Appétit, the New York Times, the Washington Post, Mother Jones, the Boston Globe, USA Today, Amazon, and more.

"The most groundbreaking book on baking in years. Full stop." —Saveur
From One-Bowl Devil's Food Layer Cake to a flawless Cherry Pie that's crisp even on the very bottom, BraveTart is a celebration of classic American desserts. Whether down-home delights like Blueberry Muffins and Glossy Fudge Brownies or supermarket mainstays such as Vanilla Wafers and Chocolate Chip Cookie Dough Ice Cream, your favorites are all here. These meticulously tested recipes bring an award-winning pastry chef's expertise into your kitchen, along with advice on how to "mix it up" with over 200 customizable variations—in short, exactly what you'd expect from a cookbook penned by a senior editor at Serious Eats. Yet BraveTart is much more than a cookbook, as Stella Parks delves into the surprising stories of how our favorite desserts came to be, from chocolate chip cookies that predate the Tollhouse Inn to the prohibition-era origins of ice cream sodas and floats. With a foreword by The Food Lab's J. Kenji López-Alt, vintage advertisements for these historical desserts, and breathtaking photography from Penny De Los Santos, BraveTart is sure to become an American classic.
Stella Parks is a graduate of the Culinary Institute of America. She was named one of America's Best New Pastry Chefs by Food & Wine. When not at home in Lexington, Kentucky, Stella can be found at the Serious Eats test kitchen in Brooklyn, New York.

J. Kenji López-Alt is the best-selling author of The Food Lab, winner of James Beard and IACP awards. He lives in San Mateo, California.
Stella Parks is essentially a one-person test kitchen for baking. If you're interested in food science, food history, or how to create a classic dessert that you thought you'd only be able to buy in the grocery store or a bakery, I'm begging you - pick up this book. You can learn to make pop tarts as well as cakes, and there's an entire section on recreating Girl Scout cookies. Stella has done a staggering amount of research, and that shines through in her notes. It never feels like a textbook and you don't need to read the little background sections, but I am happy knowing the extra two and a half pages of information about the history of chocolate chip cookies than I knew before.
It doesn't hurt that Stella not only gives you great recipes, but also provides you options to customize them! If you see a recipe that you want to try but it doesn't look quite like what you wanted, there's probably a solution. She provides adjustments to make many recipes vegan or gluten-free, plus options for switching up the flavors, as you'll see in my recipe recommendation.
Tried and True Recipe: Top-Shelf Muffin Mix
I've been cursed with dry muffin results for all of my life - until this recipe, that is. I don't know what I was doing horribly wrong before, but I am now capable of making good, moist muffins! You can make this muffin mix in 10 minutes, and from there you can either store the mix or bake it immediately. This is a perfect example of a recipe that comes with crazy amounts of customization. It shows how to adapt for different types of flour, different flavors, and what texture you're looking for. Then Stella gives adjustments to transform the original mix into blueberry, coconut, bran, banana, pumpkin, and more. There are more combinations I want to try than I'll be able to physically bake in a year, especially since my attention is also drawn to other recipes in this book. My brother swears by the combination of zucchini muffins with a snickerstreusel topping.
ISBN: 9780393239867
ISBN-10: 9780393239867
Publisher: W. W. Norton & Company
Publication Date: 08/15/2017 - 12:00am
On Sale: 08/15/2017 - 12:00am
Pages: 400
Language: English
Categories
Cooking / Courses & Dishes / Desserts