Mr. Terupt Falls Again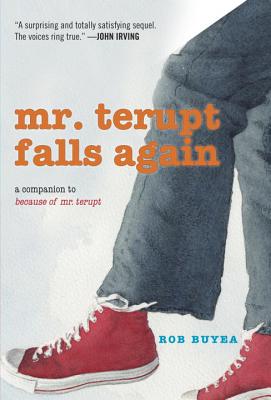 The kids and teacher of Because of Mr. Terupt are back in this warm-hearted sequel.

Fifth-grade was full of unforgettable events for Mr. Terupt and his class at Snow Hill School. Seven students were particularly affected by Mr. Terupt. Now those seven students are back, and they've been granted the rare opportunity to send one more year with their beloved teacher before they graduate from elementary school. Peter's parents expect him to attend private school after sixth-grade, but Peter has plans to stay right where he is. Eager to grow up, Alexia gets in over her head with some older kids. Danielle suspects that her family is keeping a secret from her, and she's determined to find out what it is. Jeffrey makes a life-changing discovery. Curious about her teacher's past, Jessica uncovers startling details about Mr. Terupt. Anna finally decides she's ready for the truth about her absent dad. And Luke's keen observations lead to questions with unexpected answers.
It's a roller coaster of a year as Mr. Terupt helps his students be the best they can be--and enlists their help to pull off an extra-special project. But will there be a happy ending for all? "This sequel can be read on its own. Moving and real."--
Kirkus Reviews

"A skillful meshing of characters and story lines makes for another great read."--
School Library Journal
From the Hardcover edition.
Rob Buyea taught third- and fourth-graders in Bethany, Connecticut, for six years before moving to Massachusetts, where he taught high school biology and coached wrestling for seven years at Northfield Mount Hermon. Mr. Terupt Falls Again is the companion novel to Because of Mr. Terupt and Saving Mr. Terupt. Currently, Rob is a full-time writer and lives in North Andover, Massachusetts, with his wife and three daughters. From the Hardcover edition.
ISBN: 9780375990380
ISBN-10: 9780375990380
Publisher: Delacorte Press Books for Young Readers
Publication Date: 10/09/2012 - 12:00am
On Sale: 10/09/2012 - 12:00am
Pages: 356
Language: English
Categories