While You Were Napping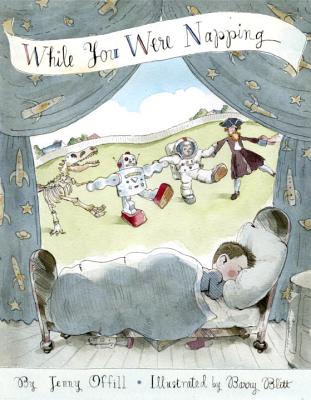 While You Were Napping
Unavailable
In this hilarious read-aloud featuring robots, fire trucks, and pirates, meet an older sister who's more than happy to fill her little brother in on all he missed while he was napping. Since none of the other neighborhood kids had to nap, they came over. Then came the robots, and of course the astronauts. It was tons of fun . . . and luckily for the boy (right?!), he slept through it all!

Here's a picture book that is sure to ring true in every family with more than one child. With minimal text and raucous illustrations, this laugh-out-loud, spot-on picture book is also a perfect portrait of a mischievous kid at her imaginative best.
Jenny Offill is the author of 17 Things I'm Not Allowed to Do Anymore, a Parenting Magazine Best Book of the Year and a Bank Street College of Education Best Children's Book of the Year, and 11 Experiments That Failed, also a Bank Street College of Education Best Children's Book of the Year, which Kirkus Reviews, in a starred review, called "the most joyful and clever whimsy."

Barry Blitt's illustrations frequently appear on the cover of the New Yorker and have also graced the pages of Vanity Fair, the New York Times, Child magazine, and Entertainment Weekly. He is the illustrator of the children's books George Washington's Birthday: A Mostly True Tale by Margaret McNamara, The Adventures of Mark Twain by Huckleberry Finn by Robert Burleigh, and Once Upon a Time, The End (Asleep in 60 Seconds) by Geoffrey Kloske.