Amelia Lost: The Life and Disappearance of Amelia Earhart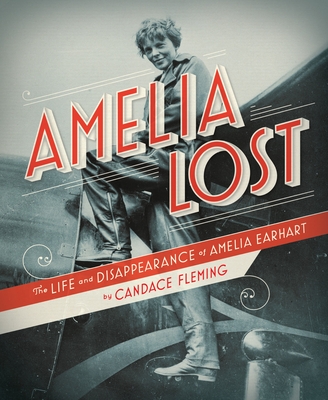 Amelia Lost: The Life and Disappearance of Amelia Earhart
Out of Stock In Store (Click to Order)
From the acclaimed author of The Great and Only Barnum—as well as The Lincolns, Our Eleanor, and Ben Franklin's Almanac—comes the thrilling story of America's most celebrated flyer, Amelia Earhart.

In alternating chapters, Fleming deftly moves readers back and forth between Amelia's life (from childhood up until her last flight) and the exhaustive search for her and her missing plane. With incredible photos, maps, and handwritten notes from Amelia herself—plus informative sidebars tackling everything from the history of flight to what Amelia liked to eat while flying (tomato soup)—this unique nonfiction title is tailor-made for middle graders.

Amelia Lost received four starred reviews and Best Book of the Year accolades from School Library Journal, Kirkus Reviews, Horn Book Magazine, the Washington Post, and the New York Times.
CANDACE FLEMING is the prolific author of The Great and Only Barnum, a YALSA Award for Excellence in Nonfiction nominee and a Publishers Weekly and Booklist Best Book; The Lincolns: A Scrapbook Look at Abraham and Mary, a Boston Globe-Horn Book Award recipient; Our Eleanor, an ALA Best Book for Young Adult's; and Ben Franklin's Almanac, a James Madison Honor Book. She is also the author of many highly acclaimed picture books.