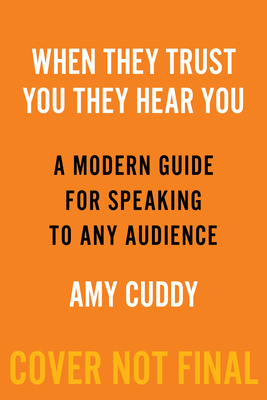 When They Trust You, They Hear You: A Modern Guide for Speaking to Any Audience
Pre-Order (Not Yet Available)
From best-selling author and leading communication expert Amy Cuddy, a guide to public and private speaking, based on the award-winning course she has taught at Harvard and Northwestern universities

In what promises to be the essential book on modern-day public speaking, top communication expert Amy Cuddy shares her tricks of the trade. She'll teach readers how to deliver their message effectively—whether they're speaking to an auditorium of thousands, to a small roomful of people, or one-on-one. Drawing on her experience as an Ivy League academic and keynote speaker, Cuddy shows that the secret to success for both introverts and extroverts lies in understanding your audience and, most importantly, yourself. 
Social psychologist and best-selling author AMY CUDDY is an expert on the behavioral science of power, presence, and prejudice. Amy earned her PhD from Princeton University and has served on the faculties of Harvard Business School and Northwestern University. She lectures on the psychology of leadership and influence at Harvard University. Amy's book Presence: Bringing Your Boldest Self to Your Biggest Challenges (Little, Brown, 2015), is a New York Times, Washington Post, USA Today, Wall Street Journal, Publishers Weekly, and Globe & Mail bestseller and has been published in 29 languages. Amy's 2012 TED Talk, "Your Body Language May Shape Who You Are," named by the Guardian as "One of 20 Online Talks that Could Change Your Life," has been viewed more than 54 million times and is the second-most-viewed TED Talk. Focusing on the power of nonverbal behavior, prejudice, and stereotyping, the delicate balance of trustworthiness and strength, and the ways in which people can affect their own thoughts, feelings, performance, and psychological and physical well-being, she writes and speaks about how we can become more present, influential, compassionate, and satisfied in our professional and personal lives.