The Nickel Boys: A Novel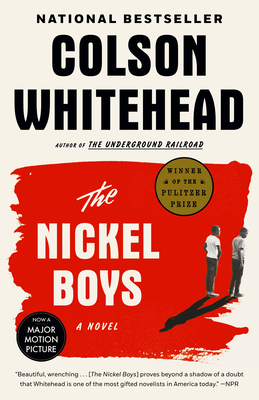 In this Pulitzer Prize-winning, New York Times bestselling follow-up to The Underground Railroad, Colson Whitehead brilliantly dramatizes another strand of American history through the story of two boys unjustly sentenced to a hellish reform school in Jim Crow-era Florida.
 
When Elwood Curtis, a black boy growing up in 1960s Tallahassee, is unfairly sentenced to a juvenile reformatory called the Nickel Academy, he finds himself trapped in a grotesque chamber of horrors. Elwood's only salvation is his friendship with fellow "delinquent" Turner, which deepens despite Turner's conviction that Elwood is hopelessly naive, that the world is crooked, and that the only way to survive is to scheme and avoid trouble. As life at the Academy becomes ever more perilous, the tension between Elwood's ideals and Turner's skepticism leads to a decision whose repercussions will echo down the decades.
 
Based on the real story of a reform school that operated for 111 years and warped the lives of thousands of children, The Nickel Boys is a devastating, driven narrative that showcases a great American novelist writing at the height of his powers and "should further cement Whitehead as one of his generation's best" (Entertainment Weekly). 

WINNER OF THE PULITZER PRIZE

ONE OF THE BEST BOOKS OF THE YEAR
Time, Esquire, The Washington Post, The Guardian, Slate, NPR, Entertainment Weekly, Vox, Variety, Christian Science Monitor, The Minneapolis Star Tribune, The Dallas Morning News, Literary Hub, BuzzFeed, The New York Public Library

NEW YORK TIMES BESTSELLER

NATIONAL BOOK CRITICS CIRCLE AWARD FINALIST

ONE OF TIME MAGAZINE'S 10 BEST FICTION BOOKS OF THE DECADE

WINNER OF THE KIRKUS PRIZE

LONGLISTED FOR THE NATIONAL BOOK AWARD

LONGLISTED FOR THE ORWELL PRIZE FOR POLITICAL FICTION 2020
Colson Whitehead is the number one New York Times bestselling author of nine books of fiction and non-fiction, including The Underground Railroad, which won the Pulitzer Prize for Fiction and the National Book Award and was named one of the Ten Best Books of the Year by The New York Times Book Review. He is also a recipient of the MacArthur and Guggenheim Fellowships. In 2020, he won his second Pulitzer Prize for Fiction for The Nickel Boys. He lives in New York City.
by Nick
Wed, 05/27/2020 - 3:07pm
I'm not serving a drink for The Nickel Boys, but I am encouraging you to read it. Yes, it won the Pulitzer. Yes, it's a bestseller. Those are the easy reasons to recommend the book. But please read it because it's a hard story, powerfully told. Mr. Whitehead's inspiration for the novel was a reform school in Florida, the Dozier School for Boys, that operated for more than 100 years. Hideously⁠—but unsurprisingly⁠—there were rampant reports of torture, rape, and murder occurring at the school. Mr. Whitehead brings the tale to life and reminds us that this is but one story, occurring in but one place, and that there are surely hundreds more of these stories waiting to be acknowledged and somehow reconciled.
ISBN: 9780345804341
ISBN-10: 9780345804341
Publisher: Anchor
Publication Date: 06/30/2020 - 12:00am
On Sale: 06/30/2020 - 12:00am
Pages: 224
Language: English
Categories