Stamped: Racism, Antiracism, and You: A Remix of the National Book Award-winning Stamped from the Beginning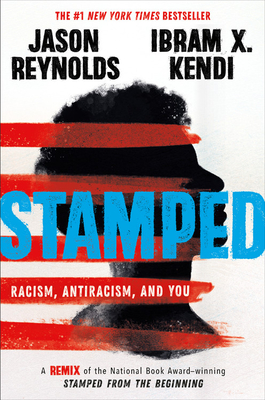 Stamped: Racism, Antiracism, and You: A Remix of the National Book Award-winning Stamped from the Beginning
On Our Shelves Now
The #1 New York Times bestseller and a USAToday bestseller!
A timely, crucial, and empowering exploration of racism--and antiracism--in America

This is NOT a history book.
This is a book about the here and now.
A book to help us better understand why we are where we are.
A book about race.

The construct of race has always been used to gain and keep power, to create dynamics that separate and silence. This remarkable reimagining of Dr. Ibram X. Kendi's National Book Award-winning Stamped from the Beginning reveals the history of racist ideas in America, and inspires hope for an antiracist future. It takes you on a race journey from then to now, shows you why we feel how we feel, and why the poison of racism lingers. It also proves that while racist ideas have always been easy to fabricate and distribute, they can also be discredited.

Through a gripping, fast-paced, and energizing narrative written by beloved award-winner Jason Reynolds, this book shines a light on the many insidious forms of racist ideas--and on ways readers can identify and stamp out racist thoughts in their daily lives.
Download the free educator guide here: https://www.hachettebookgroup.com/wp-content/uploads/2020/03/Stamped-Educator-Guide.pdf



Jason Reynolds is the #1 New York Times bestselling author of many books, including When I Was the Greatest, Boy in the Black Suit, All American Boys (cowritten with Brendan Kiely), As Brave as You, For Every One, the Track series (Ghost, Patina, Sunny, and Lu), Long Way Down, and Look Both Ways. He is a two-time National Book Award finalist; the recipient of a Newbery Honor, a Printz Honor, and multiple Coretta Scott King Honors; and the winner of a Kirkus Prize, two Walter Dean Myers Awards, and an NAACP Image Award, among other honors. He lives in Washington, D.C and invites you to visit him online at JasonWritesBooks.com.

Ibram X. Kendi is a #1 New York Times bestselling author, the Andrew W. Mellon Professor in the Humanities, and the Founding Director of the Boston University Center for Antiracist Research. He is an Ideas Columnist at The Atlantic, and a correspondent with CBS News. He is the author of five books including Stamped from the Beginning: The Definitive History of Racist Ideas in America, which won the National Book Award for Nonfiction; How to Be an Antiracist; STAMPED: Racism, Antiracism, and You, co-authored with Jason Reynolds; and Antiracist Baby, illustrated by Ashley Lukashevsky.
Nine times out of ten having the author narrate the audiobook is the right choice. Jason Reynolds is the perfect choice for Stamped, making it feel like a conversation rather than a lecture. Called a remix of Kendi's book Stamped From the Beginning, it's an overview of the history of racist ideas. I sometimes have a hard time with nonfiction, but Stamped, clocking in at just over four hours, was a one-sitting listen for me. Whether you move on to Kendi's book or just use this as a jumping off point for your own research into the progression of racist ideas, I can't recommend it enough. Download the audiobook on Libro.fm HERE.