I Shall Not Want: A Clare Fergusson and Russ Van Alstyne Mystery (Fergusson/Van Alstyne Mysteries #6)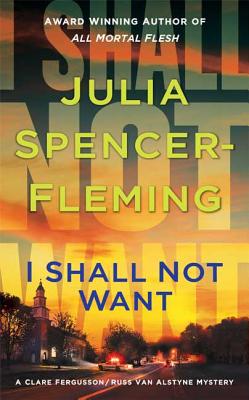 I Shall Not Want: A Clare Fergusson and Russ Van Alstyne Mystery (Fergusson/Van Alstyne Mysteries #6)
Out of Print
In the small Adirondack town of Millers Kill, New York, life doesn't stop for heartbreak. A brand-new officer in the police department, a breaking-and-entering, and trouble within his own family keep Police Chief Russ Van Alstyne busy enough to ignore the pain of losing his wife—and the woman he loves.
At St. Alban's Episcopal Church, the Reverend Clare Fergusson is trying to keep everyone happy while denying her own wounded soul. When a Mexican farmhand stumbles over a Latino man killed with a single shot to the back of his head, Clare is sucked into the investigation. The discovery of two more bodies executed in the same way ignites fears that a serial killer is loose. Now two would-be lovers, who thought they had lost everything, must find a way to trust each other again—as the violence strikes ever closer to home...
Library Journal calls Julia Spencer-Fleming's I Shall Not Want "Another suspenseful and involving mystery from an outstanding writer."
JULIA SPENCER-FLEMING is The New York Times bestselling author of One Was A Soldier, and an Agatha, Anthony, Dilys, Barry, Macavity, and Gumshoe Award winner. She studied acting and history at Ithaca College and received her J.D. at the University of Maine School of Law. Her books have been shortlisted for the Edgar, Nero Wolfe, and Romantic Times RC awards. Julia lives in a 190-year-old farmhouse in southern Maine.