The World on a Plate: 40 Cuisines, 100 Recipes, and the Stories Behind Them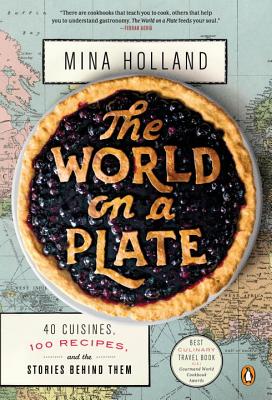 The World on a Plate: 40 Cuisines, 100 Recipes, and the Stories Behind Them
Eat your way around the world without leaving your home in this mouthwatering cultural history of 100 classic dishes.

Best Culinary Travel Book (U.K.), Gourmand World Cookbook Awards

Finalist for the Fortnum & Mason Food Book Award

"When we eat, we travel." So begins this irresistible tour of the cuisines of the world, revealing what people eat and why in forty cultures. What's the origin of kimchi in Korea? Why do we associate Argentina with steak? Why do people in Marseille eat bouillabaisse? What spices make a dish taste North African versus North Indian? What is the story behind the curries of India? And how do you know whether to drink a wine from Bourdeaux or one from Burgundy?

Bubbling over with anecdotes, trivia, and lore—from the role of a priest in the genesis of Camembert to the Mayan origins of the word chocolate—The World on a Plate serves up a delicious mélange of recipes, history, and culinary wisdom to be savored by food lovers and armchair travelers alike.
Mina Holland lives in London, where she is the editor of Guardian Cook. Traveling and living (and eating) abroad—including in the United States, where she spent a year of college, at the University of California, Berkeley—inspired her to journey the globe exploring people's eating habits. And lusting after cookbooks but not wanting to spend all her money on them inspired her to create one book that condenses information about many cuisines. The World on a Plate is the result; it's her first book.
ISBN: 9780143127659
ISBN-10: 9780143127659
Publisher: Penguin Books
Publication Date: 05/26/2015 - 12:00am
On Sale: 05/26/2015 - 12:00am
Pages: 384
Language: English
Categories