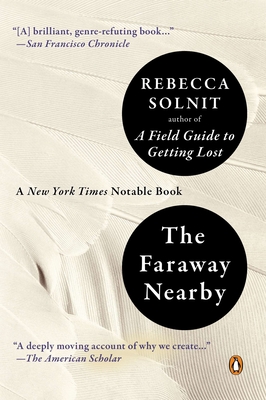 The Faraway Nearby
On Our Shelves Now
From the author of the memoir Recollections of My Nonexistence, a personal, lyrical narrative about storytelling and empathy – a fitting companion to Solnit's A Field Guide to Getting Lost
 
A finalist for the National Book Critics Circle Award

In this exquisitely written book by the author of A Paradise Built in Hell, Rebecca Solnit explores the ways we make our lives out of stories, and how we are connected by empathy, by narrative, by imagination. In the course of unpacking some of her own stories—of her mother and her decline from memory loss, of a trip to Iceland, of an illness—Solnit revisits fairytales and entertains other stories: about arctic explorers, Che Guevara among the leper colonies, and Mary Shelley's Dr. Frankenstein, about warmth and coldness, pain and kindness, decay and transformation, making art and making self. Woven together, these stories create a map which charts the boundaries and territories of storytelling, reframing who each of us is and how we might tell our story.
Writer, historian, and activist Rebecca Solnit is the author of seventeen books about environment, landscape, community, art, politics, hope, and feminism, including three atlases, of San Francisco in 2010, New Orleans in 2013, and New York in 2016; Men Explain Things to Me; The Faraway Nearby; A Field Guide to Getting Lost; Wanderlust: A History of Walking; and River of Shadows: Eadweard Muybridge and the Technological Wild West (for which she received a Guggenheim, The National Book Critics Circle Award in Criticism, and the Lannan Literary Award). She is a columnist at Harper's and a regular contributor to The Guardian. She lives in San Francisco.
Recently someone asked me which woman leader I most admired and I almost instantly answered  with Rebecca Solnit.  She's passionately devoted to her causes - look up her writings on the Google bus and "mansplaining" - and she has written over a dozen books about such a wide range of topics that her books are shelved in at least four different sections of our store.  This memoir is the first book of hers that I read, sparking an obsession with all things Solnit and all things Iceland.
~ recommended September, 2014