Master of One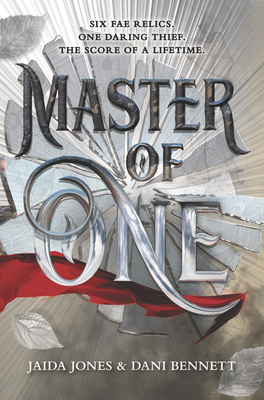 Master of One
On Our Shelves Now
Sinister sorcery. Gallows humor. A queer romance so glorious it could be right out of fae legend itself. Master of One is a fantasy unlike any other.
Rags is a thief—an excellent one. He's stolen into nobles' coffers, picked soldiers' pockets, and even liberated a ring or two off the fingers of passersby. Until he's caught by the Queensguard and forced to find an ancient fae relic for a sadistic royal sorcerer.
But Rags could never have guessed this "relic" would actually be a fae himself—a distractingly handsome, annoyingly perfect, ancient fae prince called Shining Talon. Good thing Rags can think on his toes, because things just get stranger from there...
With the heist and intrigue of Six of Crows and the dark fairy tale feel of The Cruel Prince, this young adult fantasy debut will have readers rooting for a pair of reluctant heroes as they take on a world-ending fae prophecy, a malicious royal plot, and, most dangerously of all, their feelings for each other. 
Jaida Jones and Danielle Bennett are married co-authors (without wanting to divorce yet) who live in a haunted Brooklyn brownstone with 8 cats, two parents, and one grandparent. Danielle spent her wild youth in the PNW, learning to climb trees in the local cemetery and reading through every family dinner, school day, and summer vacation. She knows how to ride a horse but not how to drive a car. Jaida is a native New Yorker who spends too much time on Instagram and is currently passionate about tattoos, animal rescue, and slow fashion. Their published work includes four novels from the Volstovic Cycle, in addition to their many twitter rants on intersectional feminism and the NYC subway system. Master of One is their young adult debut, and you can find them at jonesandbennett.com.