Girl Runner: A Novel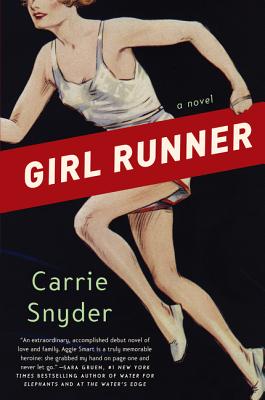 Resonant of Elizabeth Gilbert's The Signature of All Things and Tracy Chevalier's Remarkable Creatures, Girl Runner is an unforgettable, beautifully written novel that celebrates a woman born to reach beyond the limitations of her time.
As a young runner, Aganetha Smart defied everyone's expectations to win a gold medal for Canada in the 1928 Olympics. It was a revolutionary victory, because this was the first Games in which women could compete in track events—and they did so despite opposition. But now Aganetha Smart is in a nursing home, and nobody realizes that the frail centenarian was once a bold pioneer.
When two young strangers appear asking to interview Aganetha for their film about female athletes, she readily agrees. Despite her frailty, she yearns for adventure and escape. And though her achievement may have been forgotten by history, her memories of chasing gold in Amsterdam remain sharp. But that triumph is only one thread in the rich tapestry of her life. Her remarkable story is colored by tragedy as well as joy, and in Girl Runner Carrie Snyder pulls back the layers of time to reveal how Aganetha's amazing athleticism helped her escape from a family burdened by secrets and sorrow.
However, as much as Aganetha tries, she cannot outrun her past or the social conventions of her time. As the pieces of her life take shape, it becomes clear that these filmmakers may not be who they seem. . . .
Carrie Snyder's Girl Runner was short-listed for the 2014 Rogers Writers' Trust Fiction Prize. Her previous book, The Juliet Stories, was a finalist for the prestigious Governor General's Literary Award and named one of the Globe and Mail's Top 100 Books of the Year. Her first book, the short story collection Hair Hat, was short-listed for the Danuta Gleed Award for Short Fiction.
ISBN: 9780062336057
ISBN-10: 9780062336057
Publisher: Harper Perennial
Publication Date: 02/23/2016 - 12:00am
On Sale: 02/23/2016 - 12:00am
Pages: 288
Language: English
Categories