The Magic Thief: Found (Paperback)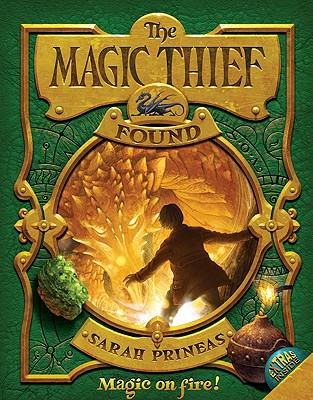 Not Available
Special Order (unlikely to be available)
Other Books in Series
This is book number 3 in the Magic Thief series.
Description
---
The Magic Thief: Found, the third book in Sarah Prineas's acclaimed middle grade fantasy series, finds wizard's apprentice Conn on the run!
Sneaking out of prison isn't easy, unless you are a thief, or a wizard. Luckily, Conn is both! Trouble is, once he's out, where does he go? His home is a pile of rubble since he blew it up doing magic. His master, the wizard Nevery, is not happy with him. Worst of all, Conn's been exiled, and staying in the city will mean his death.
But Wellmet is in danger from an evil predator coming to destroy the city, and Conn must set off on a quest to fight it. Suddenly, a huge shadow looms over him and he is swept away by something more awesome than his wildest imaginings. Is Conn brave enough to answer magic's call, or is he really just a thief at heart?
Sarah Prineas's incredible world explodes with adventure—a place where cities run on living magic and heroes come from the most surprising places. Diana Wynne Jones, author of Howl's Moving Castle, praised this middle grade fantasy series filled with magic and wonder, saying of the first book: "I couldn't put it down. Wonderful, exciting stuff."
About the Author
---
Sarah Prineas lives in the midst of the corn in rural Iowa, where she wrangles dogs, cats, chickens, and goats, goes on lots of hikes, and finds time to write. She is also the author of Ash & Bramble, a retelling of Cinderella. She is married to a physics professor and has two kids. You can visit Sarah online at www.sarah-prineas.com.