It's a Prince Thing (the Princess Rules)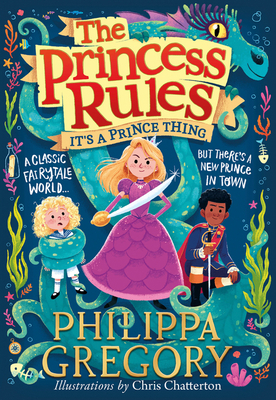 It's a Prince Thing (the Princess Rules)
On Our Shelves Now
The sequel to THE PRINCESS RULES sees rebel princess, Princess Florizella, going on even more adventures, but this time, she also has a little brother in tow...
Once upon a time, there was a princess who broke all the rules, and dared to be different...

So when that same princess - Florizella - finds a baby boy delivered by stork to her parents' palace, she is shocked to discover that he will one day be king and inherit her kingdom For every prince is given a permit which allow them to do whatever they like in the same way that every princess is given a set of rules that they have to live by.

As soon as Princess Florizella's brother is big enough to have adventures, she takes him all over the land, fighting pirates, wrestling with a sea serpent and rehoming a woolly mammoth.

Can Florizella prove that girls having rules and boys having permits isn't right? And that princes and princesses, and girls and boys, should be anything that they want to be...
Philippa Gregory is an internationally renowned author of many bestselling novels. Works that have been adapted for television and film include A Respectable Trade, The Other Boleyn Girl and The Queen's Fool. Philippa founded the charity: Gardens for the Gambia over twenty years ago which has raised funds and paid for over 200 wells in the primary schools of this African country.Philippa Gregory lives with her family on a small farm in Yorkshire.
ISBN: 9780008438739
ISBN-10: 9780008438739
Publisher: HarperCollins Children's Books
Publication Date: 03/02/2021 - 12:00am
On Sale: 03/02/2021 - 12:00am
Pages: 256
Language: English
Categories
Social Themes - Self-Esteem & Self-Reliance