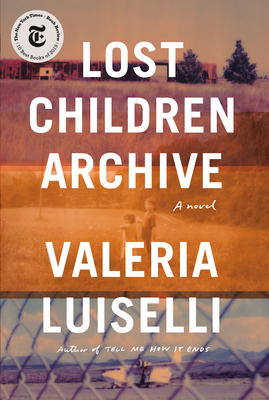 Tuesday, March 5th, 6:00pm, Coolidge Corner Theatre
Valeria Luiselli in conversation with Christopher Lydon (host of WBUR's "Radio Open Source") Click here for tickets
From the two-time NBCC Finalist, an emotionally resonant, fiercely imaginative new novel about a family whose road trip across America collides with an immigration crisis at the southwestern border - an indelible journey told with breathtaking imagery, spare lyricism, and profound humanity.
Valeria Luiselli was born in Mexico City and grew up in South Korea, South Africa, and India. An acclaimed writer of both fiction and nonfiction, she is the author of the essay collection Sidewalks; the novels Faces in the Crowd and The Story of My Teeth; and, most recently, Tell Me How It Ends: An Essay in Forty Questions. She is the winner of two Los Angeles Times Book Prizes and an American Book Award, and has twice been nominated for the National Book Critics Circle Award and the Kirkus Prize. She has been a National Book Foundation "5 Under 35" honoree and the recipient of a Bearing Witness Fellowship from the Art for Justice Fund. Her work has appeared in The New York Times, Granta, and McSweeney's, among other publications, and has been translated into more than twenty languages.
* * * * * * * * * *

Thursday, March 7th, 6:00pm, Coolidge Corner Theatre
Amber Tamblyn Era of Ignition Click here for tickets
Amber Tamblyn will appear at Coolidge Corner Theatre from 6:00-7:00pm (ticket required) to discuss her new memoir, Era of Ignition. A book signing across the street at Brookline Booksmith will follow her talk.
Through her fierce op-eds and tireless work as one of the founders of the Time's Up organization, Amber has emerged as a bold, outspoken, and respected advocate for women's rights. In Era of Ignition, she addresses gender inequality and the judgment paradigm, misogyny and discrimination, trauma and the veiled complexities of consent, white feminism and pay parity, reproductive rights and sexual assault - all told through the very personal lens of her own experiences, as well as those of her Sisters in Solidarity. At once an intimate meditation and public reckoning, Era of Ignition is a galvanizing feminist manifesto that is required reading for everyone attempting to understand the world we live in and help change it for the better.
Amber Tamblyn is an author, actor, and director. She's been nominated for an Emmy, Golden Globe, and Independent Spirit Award for her work in television and film, including House M.D. and Sisterhood of the Traveling Pants. Most recently, she wrote and directed the feature film Paint It Black. She is the author of three books of poetry, including the critically acclaimed bestseller Dark Sparkler, and a novel, Any Man, as well as a contributing writer for the New York Times.
* * * * * * * * * *