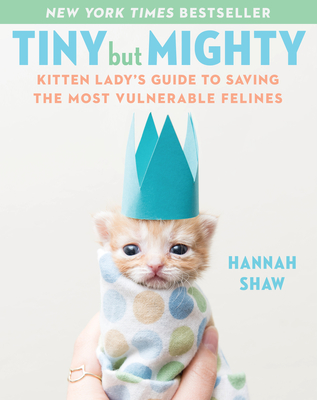 Wednesday, August 7th, 7:30pm, Wilbur Theatre
Hannah Shaw in conversation with Michael Marotta
Tiny But Mighty: Kitten Lady's Guide to Saving the Most Vulnerable Felines
Click here for tickets
From Kitten Lady, the professional kitten rescuer, humane educator, animal advocate, and owner of the popular Instagram @kittenxlady comes the definitive book on saving the most vulnerable - and adorable - feline population: newborn kittens.
Hannah Shaw is an award-winning kitten rescuer, humane educator, and unwavering animal advocate who has dedicated her life to protecting the tiniest and most vulnerable felines. Her project, Kitten Lady, provides educational media, training resources, and instructional workshops that help individuals and animal shelters learn how to save the lives of kittens - in a fun and engaging format. Hannah is the author of the forthcoming children's book Kitten Lady's Big Book of Little Kittens, and she has been featured as a guest expert on Animal Planet's "My Cat from Hell." She is also the founder of Orphan Kitten Club, a 501©3 charitable organization that provides rescue and adoption services to orphaned kittens in the San Diego area.
* * * * * * * * * *

Wednesday, August 28th, 6:00pm, Coolidge Corner Theatre
Ibram X. Kendi
How To Be An Antiracist
Click here for tickets
Ibram X. Kendi's concept of antiracism reenergizes and reshapes the conversation about racial justice in America - but even more fundamentally, points us toward liberating new ways of thinking about ourselves and each other. In How to be an Antiracist, Kendi asks us to think about what an antiracist society might look like, and how we can play an active role in building it.
Ibram X. Kendi is a New York Times bestselling author and the founding director of the Antiracist Research and Policy Center at American University. A professor of history and international relations and frequent public speaker, Kendi is a columnist at The Atlantic. He is the author of Stamped from the Beginning: The Definitive History of Racist Ideas in America, which won the National Book Award for Nonfiction, and The Black Campus Movement, which won the W.E.B. Du Bois Book Prize. Kendi lives in Washington, D.C.
* * * * * * * * * *