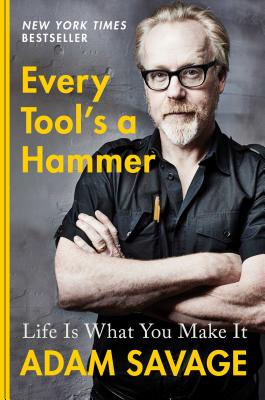 Tuesday, May 7th, 7:30pm, The Wilbur Theatre
Adam Savage in conversation with Randall Munroe
Every Tool's a Hammer: Life Is What You Make It
Click here for tickets
MythBusters' Adam Savage - author, Discovery Channel star, and one of the most beloved figures in science and tech - celebrates the release of Every Tool's a Hammer: Life Is What You Make It. Attendees will receive a FREE autographed copy of Savage's new book.
Adam Savage is a maker. From Chewbacca's bandolier to a thousand-shot Nerf gun, he has built thousands of spectacular projects as a special effects artist and the co-host of MythBusters. He is also an educator, passionate about instilling the principles of making in the next generation of inventors and inspiring them to turn their curiosity into creation.
In his practical and passionate new guide Every Tool's a Hammer, Adam weaves together vivid personal stories, original sketches and photographs from some of his most memorable projects, and interviews with many of his iconic and visionary friends in the arts and sciences - including Pixar director Andrew Stanton, Nick Offerman, Oscar-winner Guillermo Del Toro, artist Tom Sachs, and chef Traci Des Jardins - to demonstrate the many lessons he has picked up from a lifetime of making.
* * * * * * * * * *

Thursday, June 13th, 6:00pm, Brookline Booksmith Used Book Cellar
Neal Stephenson
Fall, or Dodge in Hell: A Novel
Click here for tickets
Meet Neal Stephenson and celebrate the publication of his newest book, Fall, or Dodge in Hell: A Novel. This event will consist of a reading and Q&A, followed by a signing. A ticket is required for attendance, and includes a copy of the book.
One beautiful autumn day, while Richard "Dodge" Forthrast undergoes a routine medical procedure, something goes irrevocably wrong. Dodge is pronounced brain dead and put on life support. Dodge's family has his brain scanned and its data structures uploaded and stored in the cloud, until it can eventually be revived. In the coming years, technology allows Dodge's brain to be turned back on. An eternal afterlife - the Bitworld - is created, in which humans continue to exist as digital souls. But this brave new immortal world is not the Utopia it might first seem …
Neal Stephenson is the bestselling author of the novels Reamde, Anathem, The System of the World, The Confusion, Quicksilver, Cryptonomicon, The Diamond Age, Snow Crash, and Zodiac, and the groundbreaking nonfiction work In the Beginning … Was the Command Line. He lives in Seattle, Washington.
* * * * * * * * * *