Charley Harper: An Illustrated Life (Hardcover)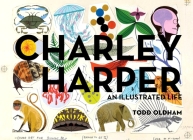 Description
---
Charley Harper was an American original. For over six decades he painted colorful and graphic illustrations of nature, animals, insects and people alike, from his home studio in Cincinnati, Ohio until he passed away in 2007 at the age of 84. Renowned New York based designer Todd Oldham rediscovered Charley's work in 2001, and collaborated closely with him in the ensuing years; combing through his extensive archive to edit and design this stunning monograph. This coffee table tome is popularly priced, beautiful tribute to Charley Harper's singular style, which he referred to as Minimal Realism.
About the Author
---
Todd Oldham is one of the most beloved and mediagenic designers working today. Originally a couture fashion designer with several stores in New York, and a commentator on MTV's House of Style, Todd's career has evolved to include all areas of design, from film and photography to furniture and graphic art. Todd appears frequently as a consultant on NBC's Today, as well as on MTV's enormously popular Crib Crashers, for which Todd redesigns teenagers' homes in the likeness of their favorite stars' abode. Oldham designs his own line of dorm room furnishings for Target in addition to a line of furniture for La-Z-Boy, and he is currently developing a television series based on Handmade Modern. Most recently, he has become a contributing editor to ReadyMade magazine. He lives in New York City.

Charley Harper was an American illustrator who worked from his studio in the woods near Cincinnati, Ohio, until his death in 2007, at the age of eighty-four. He is beloved for his delightful, graphic, and often-humorous illustrations of nature, animals, insects, and people alike. Charley liked to say that when he paints a bird, he doesn't count all the feathers in the wings he just counts the wings. Minimal realism, he called it, and his unique and precise style continue to resonate and inspire his admirers.