Charley Harper: An Illustrated Life (Hardcover)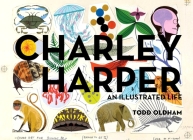 Description
---
Charley Harper was an American original. For over six decades he painted colorful and graphic illustrations of nature, animals, insects and people alike, from his home studio in Cincinnati, Ohio until he passed away in 2007 at the age of 84. Renowned New York based designer Todd Oldham rediscovered Charley's work in 2001, and collaborated closely with him in the ensuing years; combing through his extensive archive to edit and design this stunning monograph. This coffee table tome is popularly priced, beautiful tribute to Charley Harper's singular style, which he referred to as Minimal Realism.
About the Author
---
Todd Oldham's studio is a multifaceted design studio for film, photography, furniture, interior decor, books, and even floral arrangements. He lives in New York City and in eastern Pennsylvania.
Raised on a farm in the wildlife-filled hills of West Virginia, Harper (American, 1922 2007) turned his lifelong passion for Earth's creatures into a legendary career in art.
Deftly using simple geometric shapes and gentle humor to capture an animal's essential traits, he delighted readers of Ford Times and many other publications with his illustrations. He also shared his love of our feathered, furry, and fishy friends in posters for the National Park Service and numerous conservation organizations.